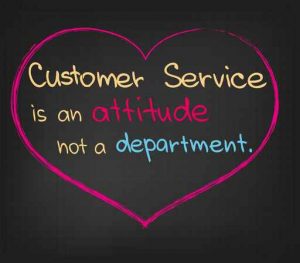 If you look after your employees, they'll look after your customers.
This is a symmetry well-understood concept and each company has taken it on board with an approach corresponding to its culture and means. It remains that 50% of employees declare themselves « disconnected » (detached) from the company that employs them (source: Manpower Right Management), which means in particular that during the annual interviews that your manager conducts with his team member, one of the two is not in (!).
This is for the concept and the stakes are undeniably high.
So what about symmetry acting?
Symmetry acting is a formulation specific to emoveo to put back on the top of the agenda the subject of the alignment of words and actions of the Company vis-à-vis its Customer in the journeys it builds with him, at a time when the respect of commitments becomes the most influential factor of the customer experience (see below).
Moreover, recent assignments have led us to talk with astonishment about the asymmetry acting, which destroys lifetime value.
What is asymmetry acting?
#We are sincerely sorry, but…
#I'd love to, but our internal processes…
#Our services were wrong but you should have…
#I can do nothing for you but invite you to make a complaint…
Illustration by example:
Your Customer, deprived of a service to which he has subscribed, makes a complaint to your customer relations centre – the latter undertakes to call him back within 48 hours but does not do so (first asymmetry), which forces your Customer to take control and call back – your customer relations centre takes over, says all his listening and empathy but explains that the problem is on your Customer side and/or that you need to evolve his package (second possible asymmetry), to finally analyze… or prefer to say that the problem is with you (third definite asymmetry) – some misunderstanding and procrastination later, your Customer withdraw from the contract and receives by push message an injunction to pay « URGENT make your payment » (fourth asymmetry) – irritated, he makes use of his personal relationship with a manager of your company, giving him the access he shouldn't have to your Premium/VIP service which bypasses the standard process and makes a clean slate to compensate for the bad experience and propose the WOW effect (5th and 6th asymmetry, quine and full cardboard!)).
Caricature? Is this an isolated case? Concatenation of several use cases? Three times no and we have examples in telecoms & media, banking, insurance, transport, …, in B2C as in B2B, in either insourced or outsourced/offshore customer relationship centers.
There is no love. There is only proof of love.
According to the second edition of the BETC Digital X Index barometer, meeting commitments has become the most influential factor in the customer experience (up to 30%).
The relationship that unites your Customer with your Company is now nourished by proof. And the demand is constantly rising based on the latest signature experience which is becoming the new standard.
In this context, to help you take advantage of this new deal, emoveo CRM specialists have put their track records to achieve symmetry acting, specifically in 4 use cases: #Incident/Breakdown, #Claim, #Churn, #AI&EI (artificial & emotional intelligence).
And to outperform these 4 use cases, they injected the wizard Ector in each of these cases.
Who is Ector?
Ector is the paragon of service and customer care.
Ector is the wizard who of course performs the symmetry acting but goes far beyond and gives proof of love at key moments in the customer journeys: for example, Ector gets out of bed with a smile in the middle of the night in winter time to get you out of the mess that Iznogoud got you into by pushing you a few hours earlier, while you are a Premium Customer, #We're sorry but…
Ector has signature experiences that leave memorable footprints in the customer lifetime value. It is all this feedback that we have injected into the 4 use cases #Incident/Breakdown, #Claim, #Churn, #AI&EI and that our specialists make available to you by contacting them : Use cases Symmetry Acting or Share with us.
Ector is also a real-life business, and, useful precision, Ector is no more expensive than a convenience service. Bravo!